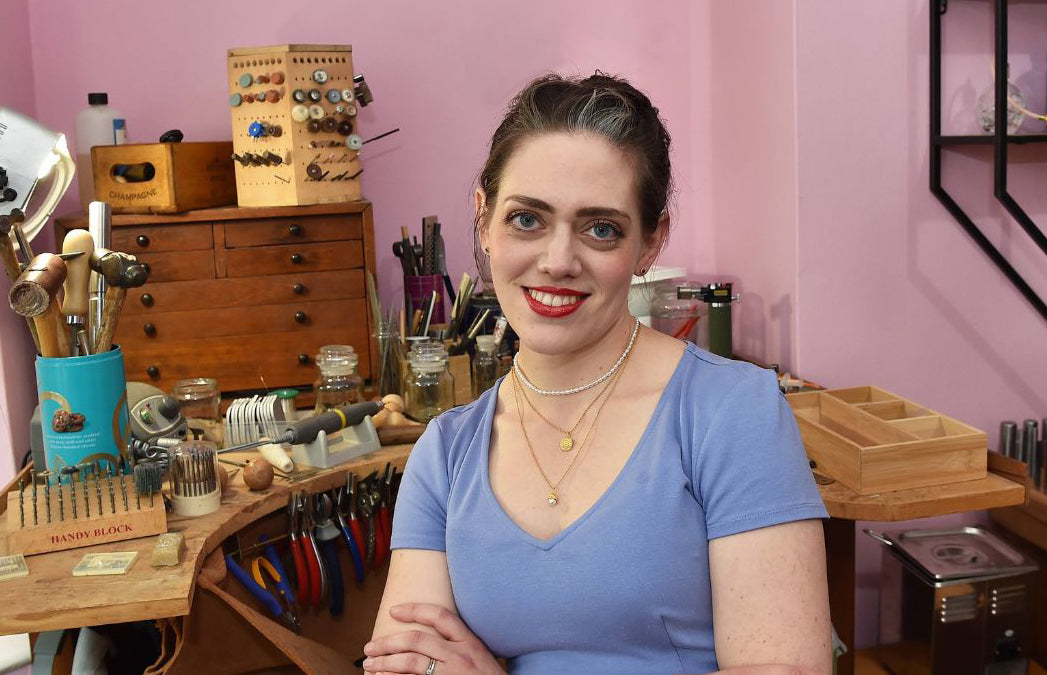 Hello, I'm Ruth.
From my Birmingham based studio, I handcraft intricate pieces of jewellery in gold, silver and platinum and ethically sourced gemstones.
My Story
From lace to precious metal
My journey started when I became fascinated with the three dimensional forms of lace. I developed a way to stitch original lace designs but gave them a twist: transforming the lace into solid precious metal.
These early ideas are still evident in my collections today.
Inspired by your story
If creativity and sculptural objects around me (and there are plenty in my studio) are one source of inspiration, meeting people like you and hearing your story is the other.
That's why I love creating bespoke pieces of jewellery which are unique to the wearer and tell their story  the triumphs and tragedies that make them who they are today.
My greatest joy is having a deeply sentimental heirloom entrusted to me to transform — and seeing the tears of delight when I hand over the client's jewellery. Their jewellery encapsulates all the same memories, but has been transformed to fit in with their own style.
New life for much-loved gems
Unusually for a designer, I also enjoy repairing much loved gems that have often been declared unrepairable in the past. I enjoy the unique challenge prevented by each piece.
I also get a little buzz from the feeling that I've helped someone keep a treasured item by repairing their jewellery.
How I got here
Nothing about how I became a jewellery designer and goldsmith, or how I approach my work today, is conventional.
I started out in a chemistry career, when I was diagnosed with narcolepsy. My life changed: I was collapsing 30+ times a day and sleeping around 18 fragmented hours each day. With my supportive husband at my side, I settled into a rhythm of being creative whenever I could, creating jewellery from materials around me and selling my pieces to family and friends.
However, with no other income streams, this quickly turned into a lifeline in other ways too. I gradually taught myself new skills to create the designs I envisaged, a journey I am still on today.
Stretching the boundaries of the possible
I never start with what is possible, but with what MIGHT be possible.
My science  background enables me to be completely design led, before figuring out how to create the jewellery design. During bespoke consultations, clients get to share unfiltered ideas and I have the joy of streamlining them to create a piece of bespoke jewellery they will love.
Perhaps that's why I've become known for designing for people who don't know what they want. Then again, how can somebody know what they want if it doesn't exist yet?
Explore the collections

Browse the beautiful pieces in my online shop, each one made to order.

Take a look

Bespoke jewellery

Do you want a piece of jewellery as unique as you are? Discover how Ruth's commissions are made.

Find out more

Repairing old jewellery

Have your much-loved item repaired and wearable again. Start a conversation today.

Email info@ruthmary.com